Click here to order Shampoo Bars 
Shampoo Bars Clean Hair Naturally
Today's shampoo market is flooded with choices that promise clean and shiny hair, but often deliver dry hair and scalp, or hair that is weighed down from chemical additives.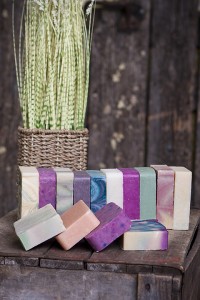 The secret to truly clean hair is simple: use natural ingredients. Newberry Naturals shampoo bars are the natural alternative to commercially prepared, synthetic shampoos that don't make good on their promises. Newberry Naturals offers a quality line of shampoo bars that clean your hair to reveal its natural shine and manageability.
Like our goat milk soap, Newberry Naturals shampoo bars are made with a combination of natural ingredients.
Water
Saponified oils of rice bran, coconut, palm, castor, sweet almond, and jojoba
Fragrance or essential oils
Newberry Naturals combines these elements in a perfect blend to create a shampoo that lathers well, contains no preservatives, and cleans hair beautifully.
Shampoo bars from Newberry Naturals use natural oils that detangle and smooth hair (jojoba oil), and provide essential vitamins, minerals, and shine (almond oil). The conditioning effects of these and other oils bring out the natural luster of hair and keep the scalp moisturized (combating dandruff, and potentially minimizing skin rashes, eczema, etc.). Shampoo bars from Newberry Naturals are great for permed or color-treated hair, too, adding shine and manageability with every wash.
Shampoo bars provide practical benefits, too.
They're convenient, easy to use, and good for travel; shampoo bars also meet current security regulations for airline carry-ons.
They're economical; one bar is good for an average of 45-60 washes, depending on hair length and thickness.
Order your shampoo bars or natural goat milk soap from Newberry Naturals today. Contact us for more info. Free priority shipping on orders of $60 or more!