Click here to order Goat Milk Soap
Goat Milk Soap Benefits the Skin
Goat milk is nutrient-rich with fats, proteins, and hormones that naturally benefit the skin. Soap made with goat milk makes healthy skin feel smooth and silky, and can help restore skin that is red, itchy or irritated.
Newberry Naturals goat milk soap, handmade in Lindstrom, Minnesota, offers a wide range of healthful benefits in skin care.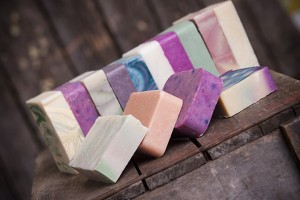 A healthful pH level – Goat milk soap has a pH level similar to human skin; therefore, goat milk soap can protect skin from daily bacterial and chemical invasions.
Great moisturizing – Natural creams in the goat milk make Newberry Naturals soaps highly moisturizing – far beyond any commercial bath or body bar.
Safe for sensitive skin – Handmade goat milk soap is free of alcohol, petroleum, and preservatives, which reduces the risk of skin irritation and allergic reactions, making it great for sensitive skin.
Helps minimize acne – Newberry Naturals soap includes natural proteins from the goat milk that kill acne-causing bacteria.
Increases exfoliation – The alpha-hydroxy acids found in goat milk helps slough off dead skin to reveal healthy new skin below.
Minimizes the effects of eczema – Newberry Naturals goat milk soap moisturizes skin and reduces itchiness, especially for those suffering from eczema, a skin condition caused by red, itchy skin patches.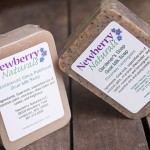 Place your order today for Newberry Naturals goat milk soap.
Check out our shampoo bars, too.
Contact us with any questions. Free priority shipping on orders of $60 or more!